The new school year is fast approaching and as we wonder where the time has gone, there's an added feeling of uncertainty around what the new school year will look like. In the UK there's talk of students returning on a part time basis or perhaps introducing stricter controls to enable all children to return to the classroom.
What's true across the word is that teaching will certainly be different. 
Flexible teaching
Our founder and CEO, Atif Mahmood, believes now is the time to try new models of teaching and learning, implement, and grow from them. We need models that are flexible enough to adapt to the changing needs of society, whether that's local lockdowns, rapid urbanization or simply the expectations of today's teachers.
The traditional way of teaching requires teachers to live their life around the school holidays,  yet in almost every other industry, people work more flexibly to suit whatever is going on in their life. Isn't it time teachers had the same level of flexibility?
When we talk about change at this level it can often feel too big to begin. But think about how quickly teachers adapted when the pandemic hit - the creativity, ideas, new processes - all switched on instantly. It proves we can do this when we all work together.
Students want more flexibility 
It's not only teachers who will benefit from increased flexibility either, we've heard from many parents and teachers who say their students want more too. 
During lockdown some students thrived working online, particularly those that are under the radar when in class. The TES featured an article 'My most unassuming students are thriving in lockdown' which highlighted how online learning allows students to get instruction immediately, do their work and access their teacher anytime. This is particularly helpful for those children who don't compete in class for attention or are easily distracted by others.
Other students have enjoyed the flexibility of working at different times of the day when at home. Research shows that school starts too early for students during puberty as their biological clock shifts - they become sleepy later in the day, sometimes not until 11pm. If they start school at 8am they've not had enough sleep to get them through each school day. So giving students the option to start their school day later has been beneficial during lockdown.
With everything we've learned over the last few months, it really is time to think about flexible teaching for today and future generations. 
Remote teaching made easy
We know teachers and students want more flexibility but where do you start? It requires deep thinking and culture change but schools can look at areas they have under their control such as the software they use.
It's highly likely students will be required to do more remote learning in the new school year. Public schools in Chicago are starting the school year with online classes only and in other parts of the world there may be a mix of home and class learning. So it is worth reflecting on the software you have, how it helped during last year and if it will support a sudden switch to full time remote teaching. 
If it doesn't and you're thinking of switching softwares, make sure it's to something that's easy to use and quick to implement. There is no time for hours of training.
This summer at Teacherly we've been working on a new release that's packed full of new features to make flexible and remote teaching a breeze. Now it's even easier for teachers to plan, collaborate and teach lessons wherever the students may be. The best bit - it takes minutes to learn. 
Our customers told us what they wanted to see more of,  so we're introducing a new dashboard to tell teachers at a glance everything they need to know about their lessons and students. We've introduced  workspaces, to make it easier to collaborate with teams and organise the day, plus lots of lovely extras including a free forever plan.
Here's a sneak peak of the dashboard launching early September.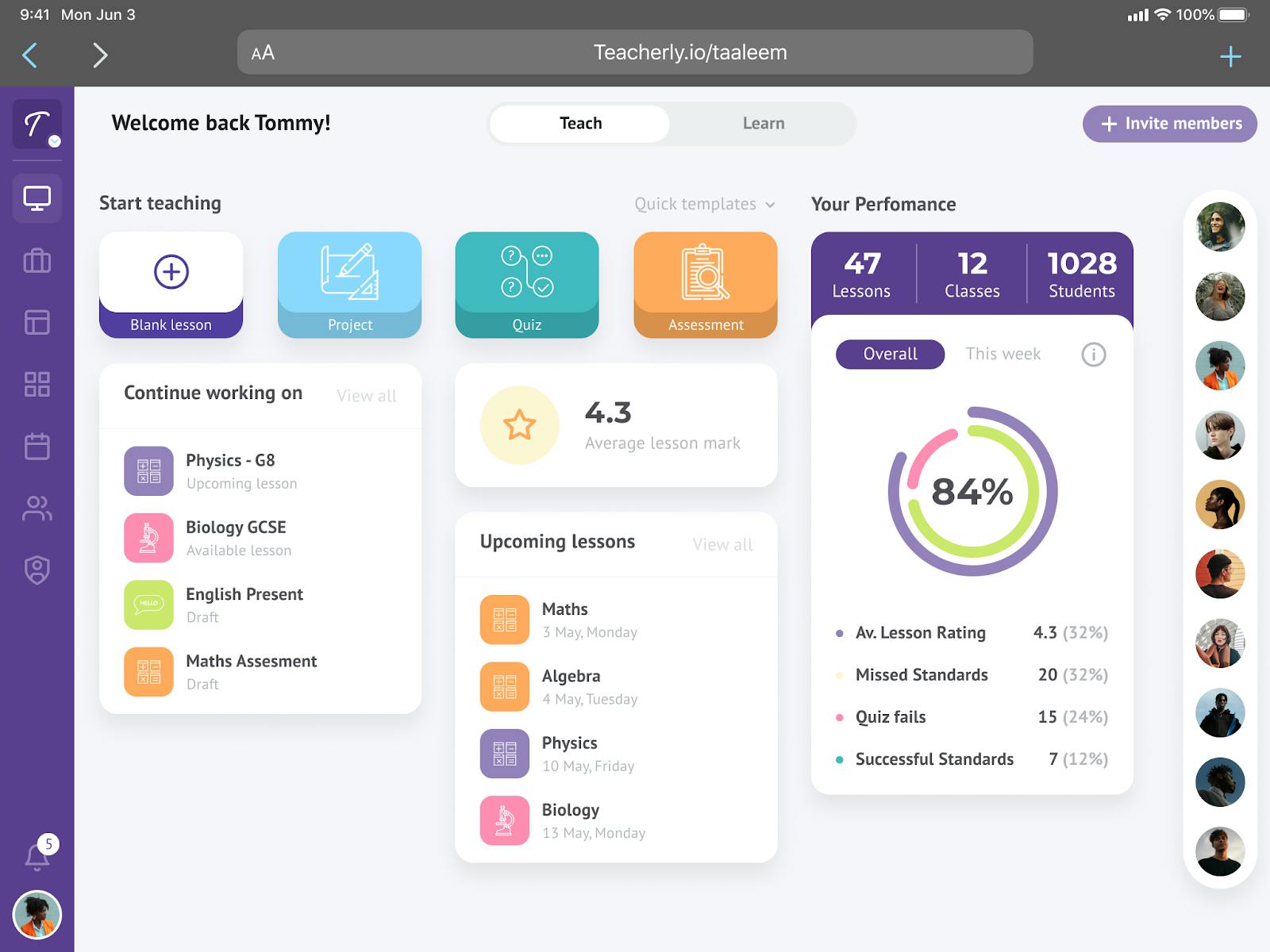 Keep an eye out on social media for more sneak peaks throughout August and if you want to try Teacherly today,  sign up today for a free trial.